There is only one church calling I have ever coveted: Primary pianist. By means of inspiration, manipulation, and sometimes prevarication, I have managed to secure that posting, off and on, for around 25 years. My heart broke when three years ago back surgery compelled my release.
When people ask why I enjoy serving in this auxiliary so much, the first reason, on a very long list, is: "I have learned more about the gospel of Jesus Christ in Primary than I ever have in a Sunday school class or priesthood quorum."
Young children generally have not been inculcated with "approved answers" to gospel questions. They see with fresh eyes and answer questions without guile. Last year, a friend of mine—I shall call her Ruth—shared with me one such experience she had while teaching the kids in her Primary class about Christ in Gethsemane.
At one point in the lesson, she read them Luke's account of the prayer Christ offered to the Father on the Mount of Olives, shortly before his arrest and crucifixion: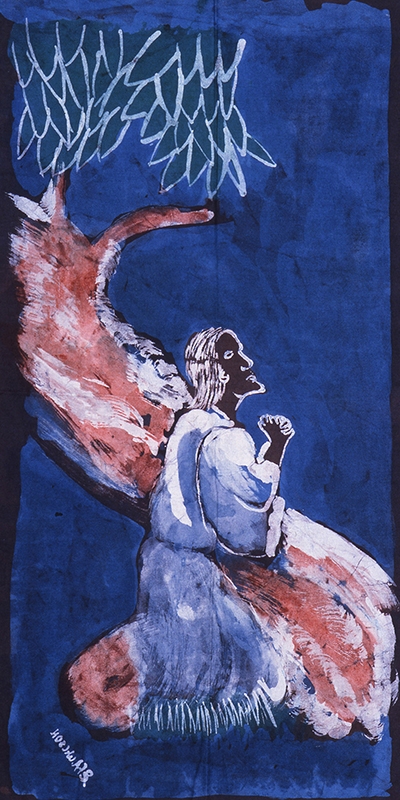 40 When he reached the place, he said to them, "Pray that you may not come into the time of trial." 41 Then he withdrew from them about a stone's throw, knelt down and prayed, 42 "Father, if you are willing, remove this cup from me; yet, not my will but yours be done." 43 Then an angel from heaven appeared to him and gave him strength. 44 In his anguish he prayed more earnestly, and his sweat became like great drops of blood falling down on the ground.45 When he got up from prayer, he came to the disciples and found them sleeping because of grief, 46 and he said to them, "Why are you sleeping? Get up and pray that you may not come into the time of trial."Luke 22:40-46 (NRSV).
When she finished, one little girl inquisitorially asked: "If he was sweating blood all over the place, why didn't the disciples, when Jesus rejoined them, say, 'Ew! What's that smell? And why are your clothes all soaking wet and red?'" Ruth smiled and pointed out that Luke was simply making a comparison. He didn't mean Jesus was actually bleeding; rather, he was saying that Jesus' "sweat became like great drops of blood."
But another little girl, whose father happened to be one of the local leaders, emphatically declared: "My dad said a general authority has testified that Jesus really was bleeding. And he actually bled from every pore on his body!" Ruth responded respectfully to the child's comment—after all, she'd heard similar statements from the pulpit before—but continued to underscore the comparative nature of this passage from Luke.
So, did Christ really sweat blood in the Garden?
        The vast majority of biblical scholars believe that Luke's phraseology in verse 44—"… his sweat was as it were great drops…"—was a simile; the evangelist was not describing actual hematidrosis, the sweating of blood.[1] Moreover, an increasing number have begun to question whether verses 43-44 were actually written by Luke.[2] Indeed, there is considerable evidence that they are an interpolation, words added centuries later by a scribe.
For starters, the earliest and most reliable manuscripts from which the New Testament is translated do not contain these verses.
Second, they are inconsistent with the manner in which Luke has otherwise portrayed Christ in the rest of his gospel. Luke went to great lengths to present Jesus as a man approaching the ordeal of atonement and crucifixion with calm and in control, confident in the will of his father. He was consciously rejecting Mark's depiction of the Savior as someone who was "distressed and agitated" and "troubled even unto death."[3] Luke's Jesus was imperturbable.[4]
Third, Luke, beginning with verse 40, structured this episode as a chiasmus, a common biblical literary device where the first statement of a passage corresponds to the last, the second statement corresponds to the penultimate one, and so forth. In the middle is a stand-alone passage, the apex of the chiasmus. The addition of verses 43 and 44 not only destroys this literary structure, but also shifts the focus away from Christ's emphasis on the importance of prayer to his physical agony.[5]
In sum, these verses not only fail to support the proposition that Christ sweat actual drops of blood in the Garden, they may not have been penned by the evangelist in the first place. But for Latter-day Saints, the issue is rendered more complicated by their other sacred texts.
In his iconic speech, King Benjamin graphically described the atonement the Savior would perform:
"And lo, he shall suffer temptations, and pain of body, hunger, thirst, and fatigue, even more than man can suffer, except it be unto death, for behold, blood cometh from every pore, so great shall be his anguish for the wickedness and the abominations of his people."

Mosiah 3;17. See also D&C 19:18.
The phrase "blood cometh from every pore" is strikingly anachronistic. The word "pore" appears nowhere in the Bible. Further, at the time Mosiah penned these words (ca. 124 B.C.), the existence, purpose and function of pores was not generally understood. Indeed, ancient medicine considered skin to be little more than a "surface casing"[6] and there is no reason to believe it was more advanced in the world of the Book of Mormon.[7]
So why did Joseph Smith employ the use of this phrase when describing the Savior's suffering in the Garden? Where did he come up with it? Why not stick with "sweating blood"?
As it turns out, at the time Joseph was translating the Book of Mormon, the question of whether Jesus sweated drops of blood was hotly debated. Those who favored such a reading of Luke—and there were many—portrayed Christ, in numerous pamphlets, biblical commentaries and hymns, as someone "who weeps blood at every pore."[8]
The 18th and 19th century advocates for this position had no source for this interpretation other than their belief that Luke 22:44 really does describe a bleeding Jesus, an interpretation largely rejected today. Nevertheless, this was a commonly held belief in Joseph's day, and it supplied him with the language—"blood cometh from every pore"—he needed to convey King Benjamin's description of the suffering the Savior would experience during the atonement. This is consistent with the presence of many other 19th century Protestant phrases and ideas found in the Book of Mormon. Moreover, it's easy to understand their use by the prophet when we remember that he was translating the book without the plates in sight and was relying, instead, on divine inspiration, which he then recorded in the language of his time.
That our Primary teacher, Ruth, did not read Luke 22:44 as actually describing the sweating of blood by the Savior proved unacceptable. Word of her heresy reached the powers-that-be, and, thereafter, a member of the bishopric regularly attended her class. Not surprisingly, this had a chilling effect on her lesson presentations and, most likely, on class participation. Two months later she was released from this calling and given another.
The purpose of this essay is not to persuade you that my analysis of this scriptural passage is correct. Indeed, I freely concede I may have gotten some things wrong. Rather, I write for two entirely different reasons, the second of which is personal: (1) to illustrate what can be gained by serious scripture study, and (2) to ascertain whether my fellow saints will tolerate in their presence someone whose views are often at variance with those expressed in our manuals and from the pulpit. As to item #2, the results have been mixed.
On numerous occasions my unconventional ideas—even when sincerely expressed in a faith-promoting manner—have prompted a backlash. On one occasion, a stake president was so outraged when I included in a sacrament talk an incident in church history that reflected poorly on two 19th-century apostles, that he ordered my bishop to conduct an investigation (I used this story to underscore the importance of not outsourcing our agency to an ecclesiastical official). Sadly, the mere act of sharing my thoughts with others in a church setting continues to provoke hostility and opposition to this day.
I constantly struggle with my place in the church, doubting whether I belong. When I hear an apostle unequivocally declare, "We know [Christ] sweat great gouts of blood from every pore as he drained the dregs of that bitter cup his Father had given him,"[9] I realize I am not part of the "we" of which he speaks. Or when I read in the Ensign that Latter-day Saints belong to "[that] group of people … who accept the literal message of the Bible regarding, Noah, the ark, and the Deluge…"[10] I feel like an outsider since I believe the story of Noah is a myth, albeit one that teaches several valuable lessons. And what am I to make of church officials who are so insecure in their own beliefs that they feel compelled to monitor the discussions of Primary children and intimidate their teacher?
Brigham Young exhibited considerable frustration with leaders who believe conformity is a virtue, who insist on fitting each member in a Procrustean bed of their approved dimensions.
How I regret the ignorance of this people—how it floods my heart with sorrow to see so many Elders of Israel who wish everybody to come to their standard and be measured by their measure. Every man must be just so long, to fit their iron bedstead, or be cut off to the right length: if too short, he must be stretched, to fill the requirement.

Journal of Discourses, 26 vols., London, Latter-day Saints' Book Depot, 1854–86, 8:8–9.
We are not a collective. Our motto is not "resistance is futile." Diversity of thought and belief make us stronger and help guard against complacency and pride. New perspectives invite us to reexamine old beliefs and help restore a childlike sense of wonder, a reverence for the mysteries of the cosmos. For me, such stimulus and variety can be found in abundance when I'm in Primary among the children, of whom the Savior said: "such is the kingdom of God."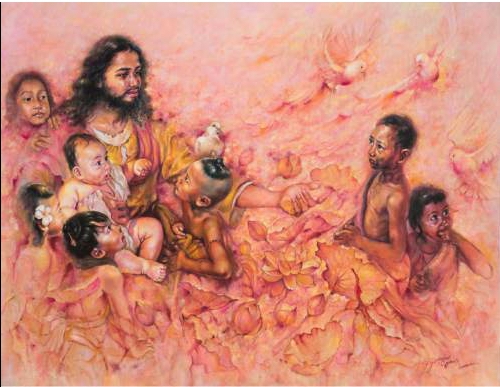 ---
[1] David A. Croteau, Urban Legends of the New Testament: 40 Common Misconceptions (Nashville, Tennessee: B&H Publishing Group, 2015), 75-76. Mike Pope, "A Closer Look: Luke 22:43–44 and Questions of Interpretation," Studies in the Bible and Antiquity, Vol. 6., pp. 130–132. 
A few LDS scholars, however, believe otherwise. See, e.g., S. Kent Brown, The Testimony of Luke (Provo, UT: BYU Studies, 2013).
[2] Bart D. Ehrman, The Orthodox Corruption of Scripture (New York, N.Y.: Oxford University Press, 1993), 187–194; Kurt and Barbara Aland, The Text of the New Testament: An Introduction to the Critical Editions and to the Theory and Practice of Modern Textual Criticism, trans. Erroll F. Rhodes (Grand Rapids, Mich.: William B. Eerdmans Publishing Company, 1987), 305; Bruce M. Metzger and Bart D. Ehrman, The Text of the New Testament: Its Transmission, Corruption, and Restoration, 4th ed. (New York, N.Y.: Oxford University Press: 2005), 286. 

[3] Mark 14:33-34.
[4] Bart D. Ehrman, Misquoting Jesus: The Story Behind Who Changed the Bible and Why (New York: HarperCollins, 2005) 139-143. See also John Noland, Luke 18:35-24-53, Volume 35C (Grand Rapids, Michigan: Zondervan Academic, 2015).
[5] Misquoting Jesus, p. 141.
[6] Dr. Rosa Santo, "Skin Over the Centuries. A Short History of Dermatology." Medicina Historica, Vol. 1, No. 2, (2017): 94-102.
[7] The only reference to medicine in the Book of Mormon is the use by the Nephites of herbal treatments for fevers. Alma 46:40.
[8] James Bennett, Lectures on the History of Jesus Christ (London: F. Westley and A. H. Davis, 1828), 336. See also Henry Kollock, Sermons on Various Subjects, vol. 2 (Savannah, GA: S. C. and I. Schenck, 1822), 355 (The ground on which he was stretched "smokes with the blood that rushes from every pore of his agonized frame."); William Parkinson, A Selection of Hymns and Spiritual Songs (New York, NY: A. Spooner, 1817), 299 ("And Pains that mortals never knew, Brought blood from every pore.")
[9] Bruce R. McConkie, "The Purifying Power of Gethsemane," General Conference of the Church of Jesus Christ of Latter-day Saints, April 1985.
[10] Donald W. Parry, "The Flood and the Tower of Babel," Ensign, January 1998.